At Repose Furniture, we play a key part in the Prism Healthcare group. Our expertise in chair design and rise and recline mechanisms has turned us into industry leaders who constantly innovate to bring customers the very best in terms of fit and comfort. We offer an extensive range of bespoke chairs and can design and deliver to almost any specification.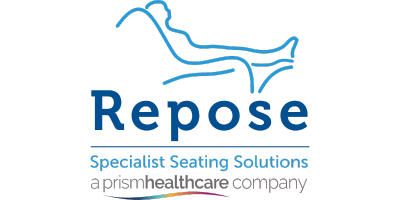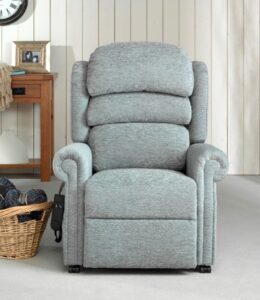 At Repose Furniture, our range of riser recliner chairs is designed and manufactured to provide the utmost comfort and improve your well-being.
With the smooth and quiet electric riser mechanism, you can effortlessly adjust your sitting or reclining position to find the perfect angle. The added benefit of the rise function assists you in standing up or sitting down safely, promoting independence and reducing strain on your joints. The ergonomic design of our chairs ensures optimal lumbar support, relieving pressure points and reducing back and neck discomfort. Upholstered in luxurious and durable fabrics, our riser recliner chairs offer both style and longevity.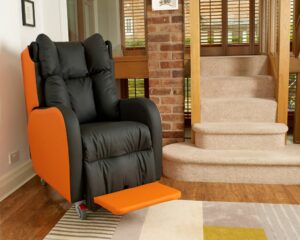 We take pride in offering a comprehensive range of healthcare chairs that prioritise comfort, functionality, and the unique needs of individuals in the healthcare or home setting. Our healthcare chairs are thoughtfully designed with a host of features to enhance the well-being of patients and caregivers alike. 
Equipped with adjustable seat heights, backrest angles, and leg support, our healthcare chairs allowing for personalised positioning and optimal comfort. The inclusion of pressure-relieving foam ensures pressure management and promotes circulation, reducing the risk of pressure ulcers. With easy-to-use mechanisms and intuitive controls, our healthcare chairs facilitate smooth transitions, making patient transfers and repositioning effortless for caregivers. Furthermore, our chairs are crafted with infection control in mind, featuring antimicrobial coatings and easy-to-clean surfaces, maintaining a clean and hygienic environment.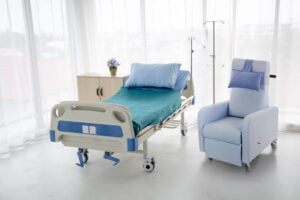 At Repose Furniture, we take immense pride in our extensive range of British-made hospital chairs that are designed to cater to both the comfort of patients and the practical needs of medical staff.
We have meticulously crafted each chair to prioritise patient comfort, featuring ergonomic designs that provide optimal support during extended periods of sitting. We understand that patients often need to stay seated for extended periods, so we have integrated features like adjustable recline angles and cushioning to prevent discomfort and pressure sores.
Moreover, our hospital chairs are engineered for durability and easy maintenance. The materials we use are not only robust enough to withstand the demands of busy medical settings but are also designed to be easily cleaned and sanitized to maintain a high level of hygiene using our approved Shieldplus™, which helps fight viruses.
At Repose Furniture, our commitment goes beyond crafting exceptional chairs. We understand that each seating solution plays a vital role in enhancing the lives of individuals, whether at home, in healthcare facilities, or hospitals. Our unwavering dedication to innovation, comfort, and quality ensures that every chair we create is a testament to our passion for improving well-being. We invite you to experience the difference that Repose Furniture brings to the world of seating; comfort without compromise.
Please get in touch to learn more about our range of specialist healthcare and riser recliner chairs.
Website www.reposefurniture.com/
Telephone +44 (0)1384 567401
Email info@reposefurniture.co.uk